Well, I was asked by a couple users to make this tutorial on how to make my handle. This tutorial is directed towards the Canon Optura10/20 cameras but can easily be modified to fit almost any small 1chip.
First you'll need the materials. All of these can be found at your local hardwear store, I got my stuff at ACE Hardwear.
1: 1/4" Thick 1" Wide Aluminum bar. (At least 20 inches for Optura models)
2: Electrical Tape
3: Screw in nob (

To hold camera to handle, MUST BE SAME SIZE/THREAD AS TRIPOD HOLE ON CAMERA, I BROUGHT MY CAMERA TO THE STORE TO MAKE SURE OF THIS

)
4: 2 Rubber washers
5: Bicycle Grip
Step 1
Place the aluminum bar under your camera and mark with a Sharpie where you will need to drill the hole that will hold the handle to your camera. Also mark a little bit behind where the back of your camera ends. This mark will be where you put the first bend and will most likely be a right angle bend.
Step 2
Find a drill bit size thats a tad bigger than the thread on the knob. Once you find the right drill bit size, drill a hole where you made the mark for your tripod hole. Once its drilled, test to see if the knob slides easily in and out of the hole. If it doesn't, use the nect biggest drill bit until it does. If it does, continue.
Step 3
Now your ready to make the first bend. Having a bench vice for this comes in handy but there are other methods to bend the aluminum. What I did was put the aluminum in the vice and locked the vice right onto the mark I made in
Step 1
. Slowly pull backwards towards you until the aluminum is at a right angle. If you don't have a vice, place the aluminum under your shoe and pull upwards until its at a right angle.
Step 4
Now that you have your first bend, you can screw the handle onto your camera to see where you will need to make your second and final bend. To do this, mark a 1/2" above where your viewfinder ends to allow room for the bend and your hand to fit once this thing is done.
Step 5
Back to the vice. For this bend, you don't want it to be a right angle, you want a nice even curve to this so its comfortable and when you hold it, depending on where your holding it, the cameras tilt will be perfect for what ever it is your filming.
Step 6
OK, the bending is done, time to make it look good. For this you will need some electrical tape. Wrap the entire handle in electrical tape. This makes it look better and protect your camera from scratches that the bare aluminum could make. When finished, poke a hole where the knob goes thru.
Step 7
Slide the bicycle grip onto the top of your camera for extra comfort. Also, put those 2 rubber washers you bought onto the knob, these washers prevent the knob from bottoming out in the cameras tripod hole.
Optional Additions
For those of you out there that have Bescors, this addition will allow you to use your beloved light with your fresh new handle. Its very simple, just find the correct size drill bit, slide the bicycle grip back, drill a hole on the top, center of the handle and this allows you to screw in your Bescor for those night lines.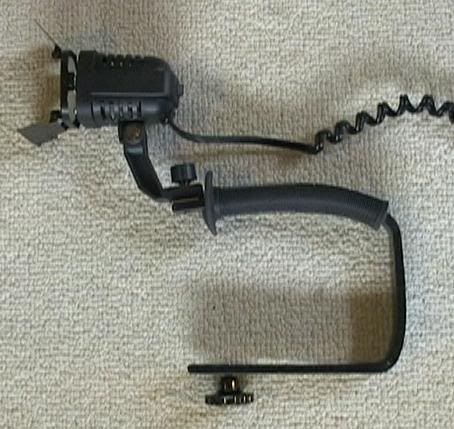 Here are some pictures of the handle. After carefully reading the intructions and looking at these pictures, making this handle should be pretty darn easy.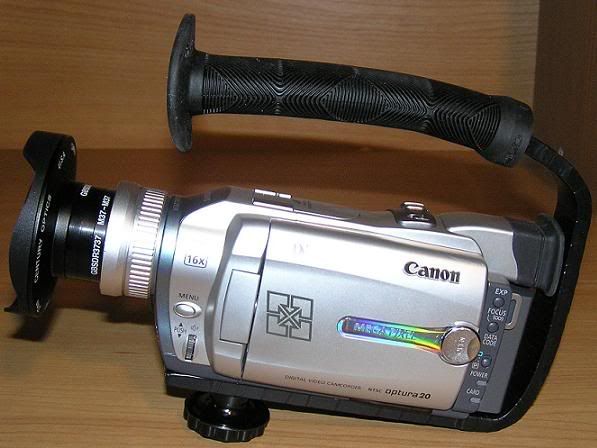 I hope this helps and if you make a handle from these intructions, please post pictures of your own creation.
Rob.A